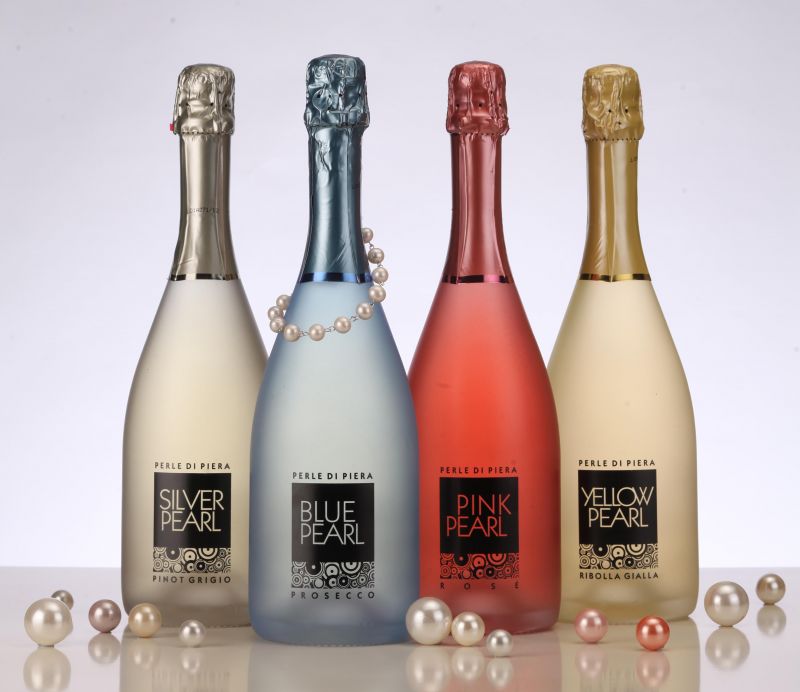 "Pearl" sparkling wine from Piera Martellozzo is now in town!
The four colorful frosted bottles are not only beautiful but the wine is also excellent!
Perle di Piera is like an explosion of bubbles with different colour representing a different mood and smile.
Perle di Piera includes:
Blue Pearl – Prosecco – A Cheerful Smile
Pale straw colour with sweet pear and apple aromas, there is a toasty backbone to this wine. Suitable as an aperitif or served with fish dishes.
Pink Pearl – Rose – A Sexy Smile
Exuding a cherry and pink glow, there are roses, raspberries, cherries, and wild violets on the nose. A soft and nice trace of acidity enables it to match with sushi or sashimi, although raw shrimp will work too.
Yellow Pearl – Ribolla Gialla – A Tender Smile
Straw yellow with a grassy tinge of green, there is a concentrated nose of apples, fresh herbs, and flowers. Fresh and citrusy, this is suitable to be served with seafood, especially sashimi.
Silver Pearl – Pinot Grigio – A Piercing Smile
Straw yellow with a tight and elegant nose of orange blossoms, toast, and ripe fruits, the wine is true to its assigned colour; sharp and crisp, the wine is suitable as an aperitif or an accompaniment to fish, crepes, and a hearty smile.
You can now try Perle di Piera at the following locations:
1. Amico Italian Wine Bar & Restaurant
T:2311 2368
Address: 7/F, 1 Knutsford Terrace, Tsim Sha Tsui, Kowloon
2. Bar City
T: 2992 0233
Address: 238 Nathan Road, 3/F, Tsim Sha Tsui, Kowloon
3. Biergarten Fass German Barrel Restaurant
T: 2311 1906
Basement No 5 Hanoi Road, Tsim Sha Tsui, Kowloon
4. Canteen Bar
T: 6117 7539
Address: G/F, 19 Mercer Street, Sheung Wan, Hong Kong
5. Cin Cin Ristorante
T: 2891 7989
Address: 1303 13/F Bartlock Centre 3 Yiu Wa Street, Causeway Bay, Hong Kong
6. Club de New Elegance
T: 2368 5888
2/F, New Mandarin Plaza, 14 Science Museum Road, Tsim Sha Tsui East, Kowloon
7. James Kitchen
T: 2368 3833
Address: 9/F, H8, 8 Hau Fook Street, Tsim Sha Tsui, Kowloon
8. La Cucina Italiana
T:2156 9115
Address: 21/F – 22/F, QRE Plaza, 202 Queen's Road East, Wan Chai, Hong Kong
9. La Tache French Cuisine
T: 2629 5339
Address: Unit 11, 11/F, MegaBox, Enterprise Square Five, 38 Wang Chiu Road, Kowloon Bay, Kowloon
10. Mr. Steak Grill
T: 2802 1128
Address: Cleveland Mansion, Causeway Bay, Hong Kong
11. Maureen
T: 2915 2261
Address: G/F, 11 Hing Wan Street, Wan Chai, Hong Kong
12. Palate's Place
T: 6233 7710
Address: Shop 23A, G/F, Honley Court, 94-110, Heung Sze Wui Road, Tuen Mun., NT
13. Pop
T:2899 2348
Address: Shop 16 Wo On Lane Central, Hong Kong
14. Viva Club (HK)
T: 3755 0191
2/F, Multifield Plaza, 3-7A Prat Avenue, Tsim Sha Tsui, Kowloon
15. Zoo
T: 3583 1200
33 Jervois Street, Sheung Wan, Hong Kong