So Harvest is coming quickly in the northern hemisphere. This time we have friend from Alsace, telling us about the situation there: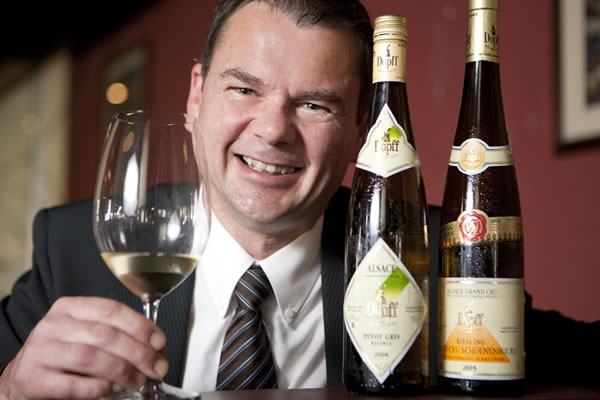 Philippe Durst from Domaine Dopff Au Moulin:
"Samples taken in the vineyards over the last 10 days show quick ripening of the grapes, fast rising of potential alcohol and a drop in acidity levels:
Everybody in Alsace still has in mind the 2 extreme vintages of 2003 (sunny, dry and scorching hot) and 2006 (when the harvest for still wines started with warm weather and … unwelcomed rain): so far it is too early to predict what 2012 will be like. Probably not like any of those 2.
Also, it will definitely not start as early as 2011, when our grape pickers were out on August 25th. It looks more like we shall send them out in a week from now on Monday, September 10th for the vineyards that need to be picked early for sparkling wine.
There was rain in June/July and it was difficult to keep under control fungal diseases such as "oidium" and "mildiou" ( powdery mildew and downy mildew) : as a result yields are likely to be lower than 2011.
Nevertheless August was a real summer month, there is no sign of botrytis and healthy grapes are what we require.
Potential alcohol levels are rising fast and many Pinot Blanc, Auxerrois, Chardonnay have reached or exceeded 10% potential alcohol. For sparkling wines, they are rarely picked above 11.5 % but what matters most is to obtain a must with a good acidity level because the base wines will go through 2 fermentations (tank fermentation followed by bottle fermentation early the following year): acidity gives freshness and balance to the wine and allows a harmonious ageeing process."