In Spain, Rioja is one of the northern region that will harvest a bit later than the south. See what our friend says at this moment.
Roberto Ijalba Pérez of Bodegas Santalba, Rioja, Spain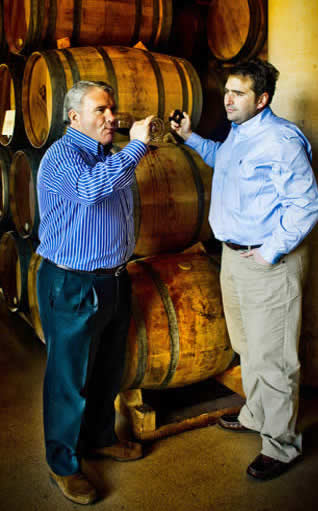 "The harvest forecast in the Denominacion de Origen Calificada Rioja DOC Rioja this year presents a lower quantity than last years because the soils have lower fertility and therefore less production. In early June started a period of drought that still continues and together with high temperatures during August in Rioja have reduced the yields of the crops compared to previous years, but certainly the quality of this vintage looks extraordinary due to the water stress and a perfect health conditions of the plants. However, still remains a month and a half to start the harvest and the weather in this period is crucial and will depends if it rains or not.
Probably, we forecast we will have a long harvest and we will have to start with the vineyards in lower altitude with higher sun exposure with earlier ripening and it would be very staggered harvest. More than a month ago the veraison of the grapes began and sugar levels, polyphenols and colour parameters of the grapes are developing excellently rising continuously.
To ensure the quality of the grapes, we performed last week a green harvest, that consist to remove a percentage of bunches of grapes and to leave in the plant the best ones to assure a better quality ripening.
We expect to start our harvest in our region, the northern part of Rioja called Rioja Alta around first week of October."

Seems it is not a bad year for the Rioja region. The Bodegas Santalba is famous for the high amount of reveratrol in their wine.