Driving to Paris and heading to Baccarat's 250th anniversary was just an introduction to a one week crazy journey full of surprises and filled up with nice encounters and topped with hips of foods, truffles, and of course wines.
The private hostel location of Baccarat's headquarters was gathering 2500 people for this unique anniversary.www.baccarat-anniversary.com


On location I bumped into Michelin stared chef celebrities Guy Martin, and many many more VIPs…the renowned house was shining and offering the finest crafts for a unique mind-blowing showcase.
It almost seemed that the non-far located Eiffel tower would not be the only night star at least for one specific occasion. All the corners of the hotel particulier were decorated with animalistic thematic displays, animals and amazing art works designed by Stark.
Then back to reality, I had to escape the Friday's traffic jams to head to a friend's place and take a look at his cellar as he wants to sale some of his collectible flacons in auctions. In his house basement, the decorator has some very nice Rhône, and a true taste for diversity…Yellow wines, Alsace, iconic Bordeaux, and some crazy nice white burgundies.


My first drinking highlight was a 2000 Châteauneuf du pape du Clos des pape, lucky we dogged in as it was almost going off the cliff with a color glancing on the orange on the sides, tiny signs of an early oxidation, but it kept on opening as we drank it, and bottom line I wish we could have some more of this very cherry-flavored juice…the next day we casually went to his favorite supplier and I could purchase some Rhône from domain La Janasse. I was up to stay in a remote location of France further south…the red ground as I like to call it, because the pillars of the location are Syrah, Carignan and Grenache…so as Languedoc cepages are also common in Rhône It's very interesting to have the opportunity to taste what blends can offer under the hot sun of this two provenances.

Then I had to drive some more, passing by center of France Clermont Ferrand, and snowy valleys of Auvergne, finally reaching pit stop of Talairan Corbières.
Far away from the 16th district hotel particulier styled buildings, I was now in the depth of Corbières surrounded by plots of Carignan, Grenache and Syrah…I was heading to Talairan, a family and familiar place where I can go hide sometimes to understanding more about wines.



Talairan is just another wine village with its 380 inhabitants stuck in a Valley between Carcassonne and Narbonne. Keywords to survive the winter here are hunting, rugby, and playing cards by the fireplace. The sea is never too far away and the location is always windy.



Languedoc is on the rise with its big groupements doing billions of hectoliters of grapejuice, and renown as well for being one of the biggest viticole terroir on earth…Misery and table wine as a heritage soon to be rediscovered thanks to the hard work of some amazing and talented vignerons like Stephane Serre from l'AMANDYERE who scored higher notes than Cheval Blanc…on his first cuvée, the 09 vintage…judge being Jancis Robinson, that tells…
So season stuff, in the field, clipping, everyone is out day time to cut and prepare the plots for a new spring soon to be there.
Meanwhile, it's the truffle season, so if you don t mind outdoors, you might score nice moments:
L'AMANDYERE my second stop this season…After enjoying doing the harvest with some Cru people best nicknamed after captain speed considering his ability to shift manual gears like no one else and ride the local gravel roads like Sebastien Loeb…




L AMANDYERE, 5 acres of craziness, over 801 years old Syrah's, Cinsaults, Grenache, Muscat petit grain, gewürztraminer…well something non common in the hearth of the Val de Dagne, in another tiny village called Montlaur.
Ellie, the grand dad passed on the property to his grandson Stéphane Serre; retired rock-climber…Ellie is a true personage he knows more about my family than I do, he knows and transmitted his best plots to Stephane.
We don t do bio wines… we just let the vineyard express itself. Altitude is 400meters, and location is a gift from gods. Beneath the argilo-calcaire ground flows the biggest natural water source of the region. When you know that ground temp can rise above 65 degrees Celsius during hot summer time, you understand why some reds do taste like comfiture when tasted directly out of the fermenter rolls.
I wish I could have breakfast here every day in the cellars of the impasse du vieux puits.

RUF DIAMONDS and a Jewell wine maker, blending his bays like no one else. Green harvest almost 80% of the fruits are gone for good in early September, then the rest is cautiously picked up by hand and sort by hand four times before being dumped in one of the 15 cuves.
The nicest bays are designated to two roll fermenters containing 300 liters.
Crazy machinery is blowing cold and heat in the same time, so Stephane can eventually decide to do crio fermentation on some parcels as well.
All this love and hard work results in 8 cuvees. All the juices are rich expressive with an amazing aromatic persistence. It's non-vintage…elevage can last up to 36 months for the top crus, but you won't have the bitter taste of wood, it's just like the surroundings, herbs, thyme, minty, fruity, peppery and round, it's a calling for another raw and never releases your pallet or your nose…Full power wines, ranging from 14 degrees up to 15.5 degrees, it is so unexpected regarding the region, but so understandable when you ve witnessed the amount of efforts in the plots and in the cellar.
If you love wine you must once in your lifetime experience these sauces. It reminds me crazy gatherings in Hong Kong, when 59 LA tour are poured, followed by some mind blowing Rhone's from Guigal or La Landonne…the collector cases are coming with waxed capsules, and each bottle is signed and precise how many bays have been used to please your senses.
After tasting the pre blends juices, we headed to the domain to do some clipping in the Syrah plots. The "y shape" of the plant has to be a trademark and Stephane shown me how to execute a good taille "en goblet…
After drinking, working and chatting it was time to eat, despite the austerity of the place it's a kind of heaven; lucky the black truffle season was on, and I headed to Talairan local market to get some black diamonds.
You can purchase your truffles directly from pickers, prices depends on your ability to negotiate and if you show up too late you will have to deal, like me, with the leftovers for 600€ a kilo…
As I said the sea is just 30 minutes away, so to recover from the truffle marathon you can also enjoy oyster degustation with some dry whites of the local boys, yes life's hard…
For whites locals are using blends of Marsanne, Grenache and Maccabeu, and I even tasted a 100% Maccabeu, it's all very fresh, on white fruits and affordable all ranging from 60 HKD up to 150HKD…The "Jules" cuvée from Serre Mazard is a good match for sea food if you look for good dry white companion, three star Michelin chef Goujon has all the Serre Mazard wines on his playlist…
Saffron, honey, nuts, hams, sausages…up to you to draw the food line, it's also a food lover heaven.
So for reds I gave a go to Daniel Raymond "baiser", a new fragrance and very nicely packaged; once more very oaky, very strong dark prune nose, a bit of acidity and not very long lasting after taste, but definitively a signature of his terroir under appellation Corbières.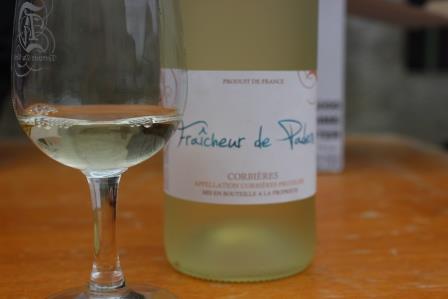 Plenty on offer due to the proximity of the cooperative of Talairan selling the local grapes under the name of Terroir du Vertiges…VERTIGO terroir, installations are ultra-modern and they craft over a million of bottle here.
This is it this was my carte postale from the red ground.
If you look for very authentic immersion into the Corbières, this is just an introduction.
Top to bottom, you can experience diversity in the reds, and have fun with rosés and whites.
In my heart it remains the red ground, because it's the color of the soil here.
Languedoc and Corbières are on the rise due to old plots, aged over a century. They are still doing mass market wines, but if you're lucky enough, tasting the 100% Grenache of L'AMANDYERE might just change your mind.
CHEERS JUJU