Alsace, located in the North-East of France, next to Germany, is not only a place full of fascinating history and culture, but also a globally-renowned area for white wine production. Dating back over a thousand years, there were already over one hundred vineyards in the region. During the war-times, Alsace was alternately occupied by Prussia, Germany and France. Hence, both the German and French styles were well mingled with the architectural, cultural and winemaking history in the region, and embedded in such historical heritage are all kinds of captivating stories, which makes Alsace so unique!
The 170km of producing area in Alsace, from North to South, was set up along the Vosges Mountains. Alsace is influenced by a semi-continental climate, which features dry, cold winters and hot summers. It is protected by the Vosges mountain range, making the Alsace region the 2nd driest wine area of France. The long summer days, together with the location of vineyards in the highlands, give rise to a vast diurnal temperature difference between day and night. This help the grapes to develop delicate aromas, which is particularly suitable for the aromatic white grape varieties. The soil of Alsace is complex and multi-layered, which ranges from granite to limestone, clay, shale, volcanic and sandstone, Alsace becomes the only wine region in the world with all types of soil. It provides a strong scent of minerals to wines as well as the widest range of styles.

Back to Medieval Period 
There are 2 main regions in Alsace which are most attractive, one is Strasbourg, another is the fairy-tale-like region of Colmar, also full of colombages architecture, it is famous for its historical signboards drawn by Oncle Hansi, a famous illustrator in France back in the early 1900s. Besides, Colmar is also the hometown of Frédéric Auguste Bartholdi, a famous French sculptor and the creator of the Statue of Liberty. With the history of nurturing such talented artists, the region is blessed by a rich artistic atmosphere. Likewise, the climatic condition of Colmar has also made the region a favourable environment for vine growing. In fact, apart from being honoured as a capital of wine, Colmar is also awarded as a four-flower city in France. The beautiful environment, together with the historical buildings, has turned the region in an outstanding medieval microcosm.
Alsace Varieties 
Germany has influenced the French food and culture of Alsace. Besides the similarity between the grape varieties, the wine bottles are equally slender. However, Alsace wines in general have a dry style. Wines produced in Alsace are named with the grape varieties. There are seven statutory grape varieties in Alsace, including Riesling, Gewurztraminer, Pinot Gris, Muscat, Sylvaner, Pinot Blanc and Pinot Noir. The Alsace Grand Cru classified wines are only made with the first four mentioned above, which are noble grapes (with only one exception where Sylvaner is allowed in one of the 51 Grands Crus). In addition to red and white wines, there is also the Crémant d'Alsace, a sparkling wine made by traditional method, the most popular AOC sparkling wine in France ex-Champagne.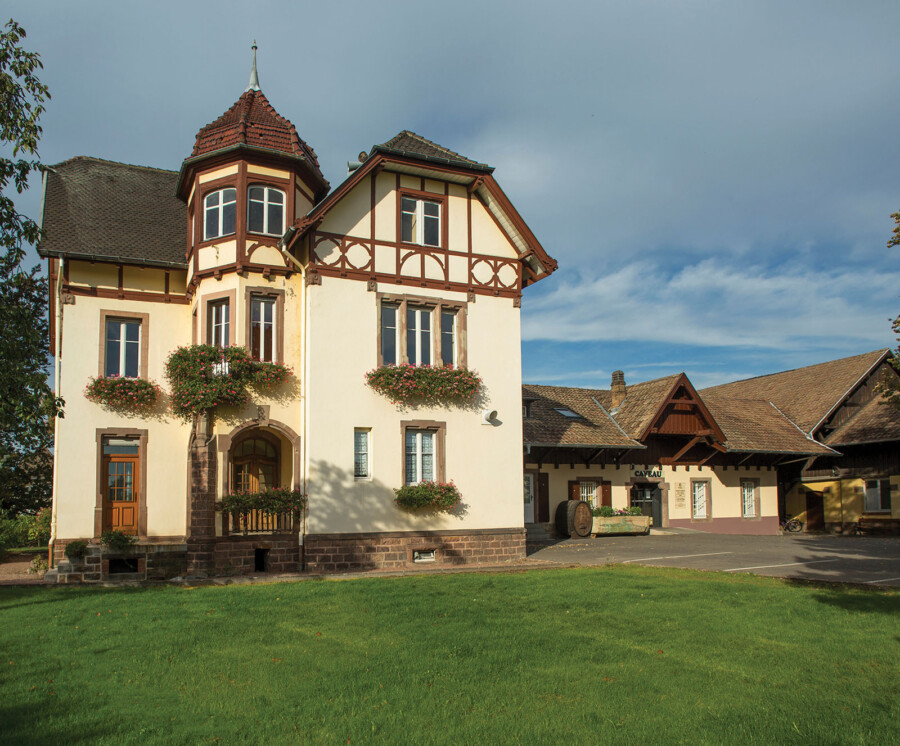 Hospices de Colmar
Like many other French wine region, winemaking is usually related to monks, churches and hospitals, like the famous Hospices de Beaune in Bourgogne. Founded in 1255, the prestigious vineyard of the Hospices De Colmar is a historical heritage and is now cultivated by Domaine Viticole de la Ville de Colmar founded by ampelographer Chrétien Oberlin. They aim to make wine expressing the unique terroir and its privileged location at the heart of Alsatian wine-making country.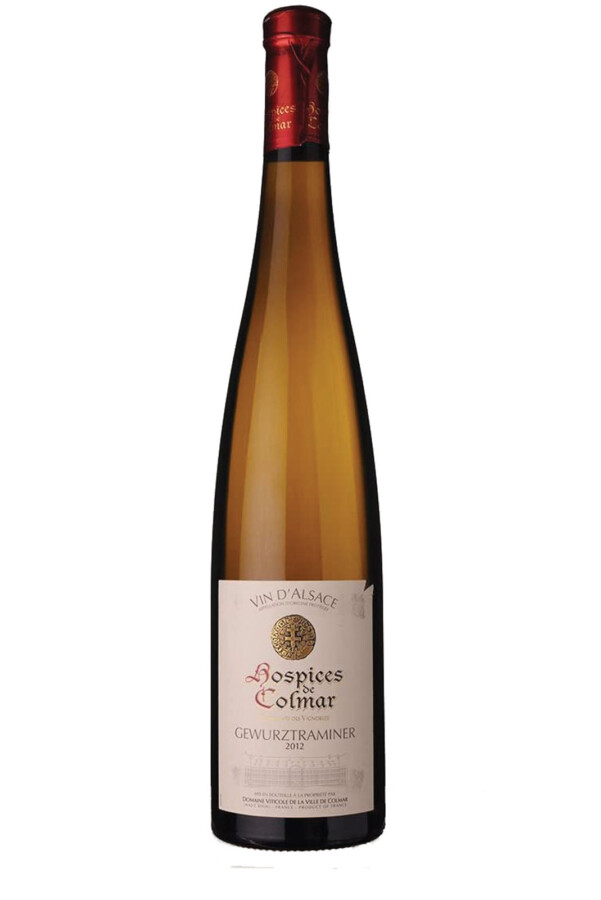 AOC Alsace Gewurztraminer 2018, Hospices de Colmar
Floral, fragrant and delicate white wine with signature aroma of lychee, white flower, soft and mellow palate with aromatic finish. 
Available at Red Wine Village
www.redwinevillage.com
HK$ 208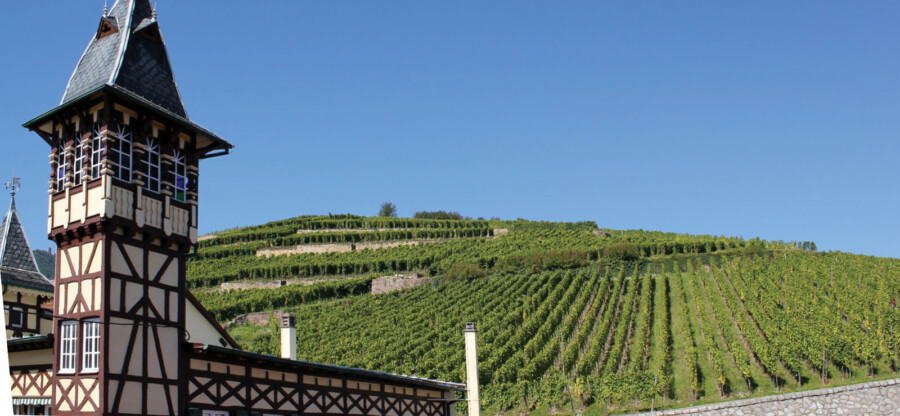 Trimbach
Founded in 1626 by Jean Trimbach in the famous village of Ribeauvillé. It is now led by the twelfth generation. The limestone soil in Ribeauvillé is well suited for Alsace noble varieties of Riesling and Gewurztraminer, combining with other favourable conditions to create the best terroir in Alsace.

AOC Alsace Grand Cru Schlossberg Riesling 2016, Trimbach
Refined zesty aroma on the nose. The palate is dry with generous ripe fruit flavour of pear, candied lemon. Finish is clean and refined with balanced acidity, lengthy with seductive mineral notes.
Available at ASC Fine Wines
www.asc-wines.com 
HK$ 519
Alsace Wine Classification 
There are 53 AOC in Alsace, including AOC Alsace (74%), AOC Crémant d'Alsace (22%) and 51 AOC Alsace Grand Cru (4%).
AOC Alsace is the regional appellation and usually the label will indicate the grape variety, meaning the wine is made 100% of the variety. If it is a blended wine, it will be labelled as "Edelzwicker" or "Gentil". Similar to other French regions, the commune name could also be mentioned, as long as it is made according to the regulations of the specific commune. There are 13 qualified "Communes" in Alsace, including: Bergheim, Blienschwiller, Saint-Hippolyte, Côtes de Barr, Scherwiller, Côte de Rouffach, etc… The specific "Lieu-dit" could also be labelled as the wine is from a single-vineyard within the appellation if it complies to the strict regulations required.
AOC Crémant d'Alsace is sparkling wine made by traditional method, grape varieties allowed include Riesling, Pinot Gris, Pinot Blanc, Pinot Noir, Auxerrois and Chardonnay.
AOC Alsace Grand Cru account only for 4% of the total production, and there are 51 unique Grand Crus. Each Grand Cru has its own standards in allowed varieties, yield, planting density and harvesting requirements. Only 4 noble grapes are allowed: Riesling, Muscat, Gewurztraminer and Pinot Gris (with only one exception where Sylvaner is allowed in one of the 51 Grands Crus).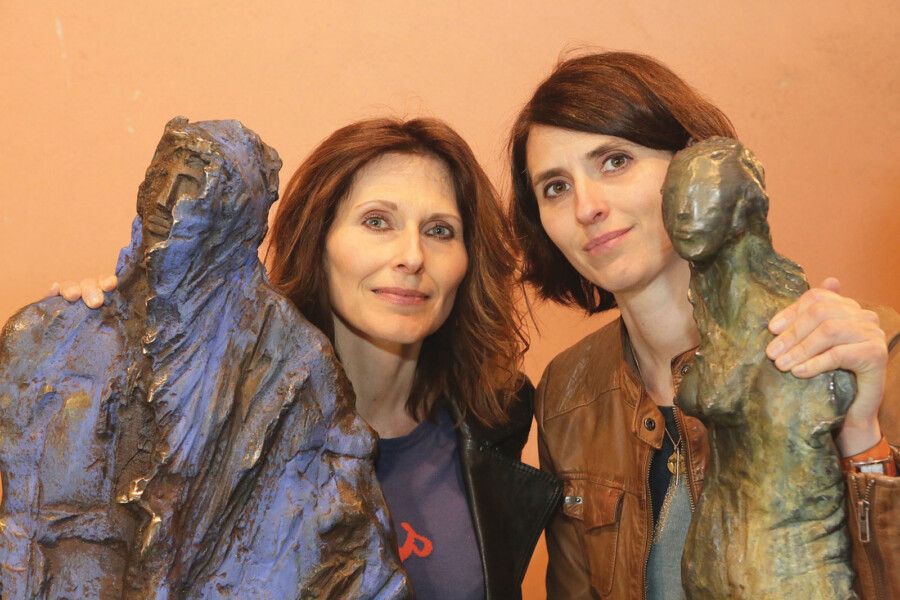 Josmeyer
Jean Meyer, and now his daughters Isabelle & Céline, of Josmeyer view winemaking as a form of art, with the design of the unique labels, created by local artists for Josmeyer and an expression of the wines. All of the estate's vineyards are cultivated according to biodynamic principles, including the Alsace Grand Cru vineyards Hengst and Brand.

AOC Alsace Gewurztraminer Vendange Tardive 2015, Josmeyer
Perfumed aroma of lychee, with touch of sweet spices of cinnamon and clove. The palate has a lingering sweetness of ripe fruit, honey, and supported by crisp acidity. Finish is elegant, lengthy with round edges.
Available at: Wine Warrior
www.winewarrior.hk
HK$ 480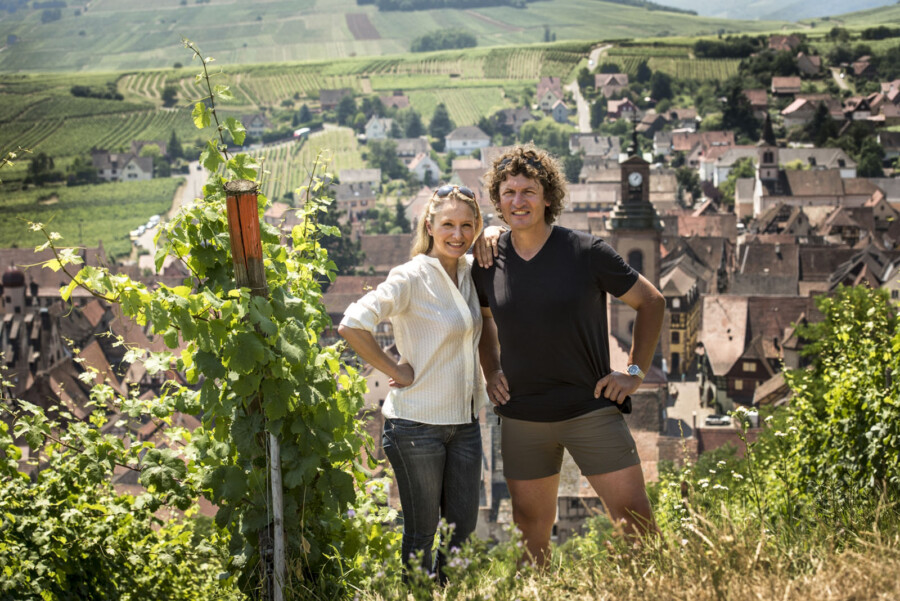 Domaine Bott-Geyl
Jean-Christophe Bott's commitment to purity, concentration and varietal character has gathered the world's attention on this tiny Domaine in Beblenheim, which lies in the heart of the Alsace region. Bott-Geyl began in 1947 but has reached true greatness under Jean-Christophe's watch after his experiences with wine producers in Germany, France, and the New World.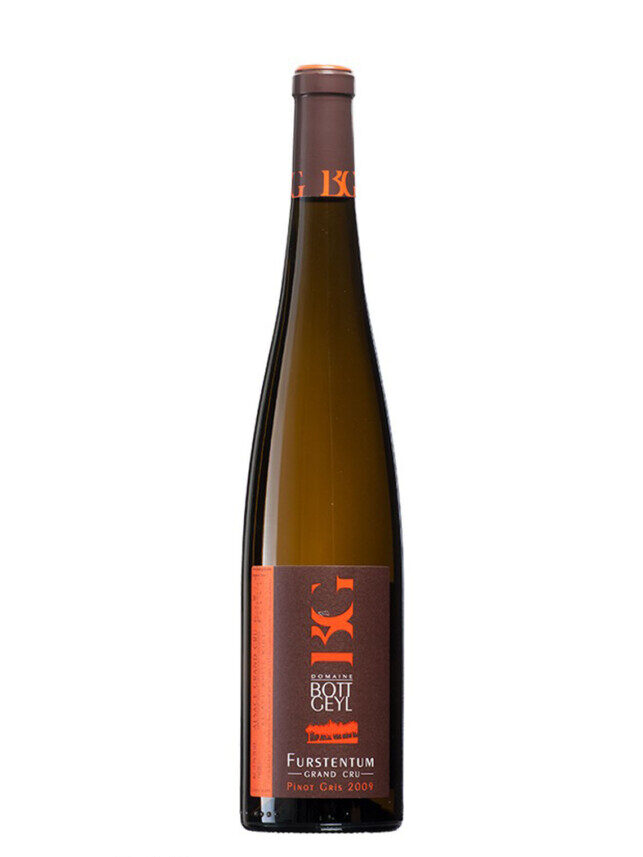 AOC Alsace Grand Cru Furstentum Pinot Gris 2010, Domaine Bott-Geyl
Generous aroma of ripe tropical fruit from a typical mature Alsace wine. The complex fruity notes come with ginger, honey and spices, with soft acidity to support. Finish shows refined minerality.
Available at GDV Fine Wines
www.gdvwines.com
HK$ 298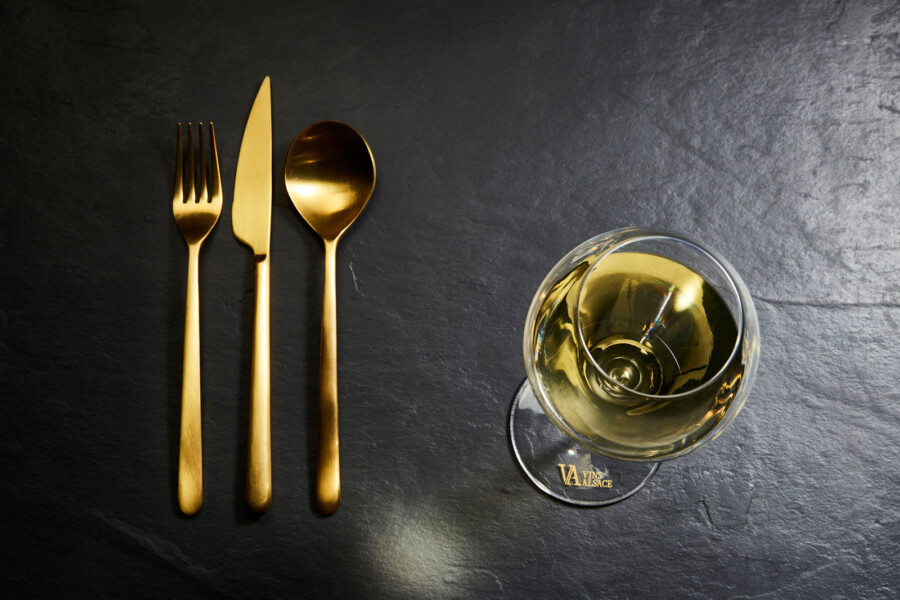 Month of Alsace 
This December would be surrounded by Alsace wines in town. The Vins d'Alsace (CIVA – Alsace Wines Committee) is launching a campaign in Hong Kong, featuring different tasting events in retail shops and food pairing menu, offers in participating restaurants. For details, please refer to the Alsace Wines Official Facebook fan page: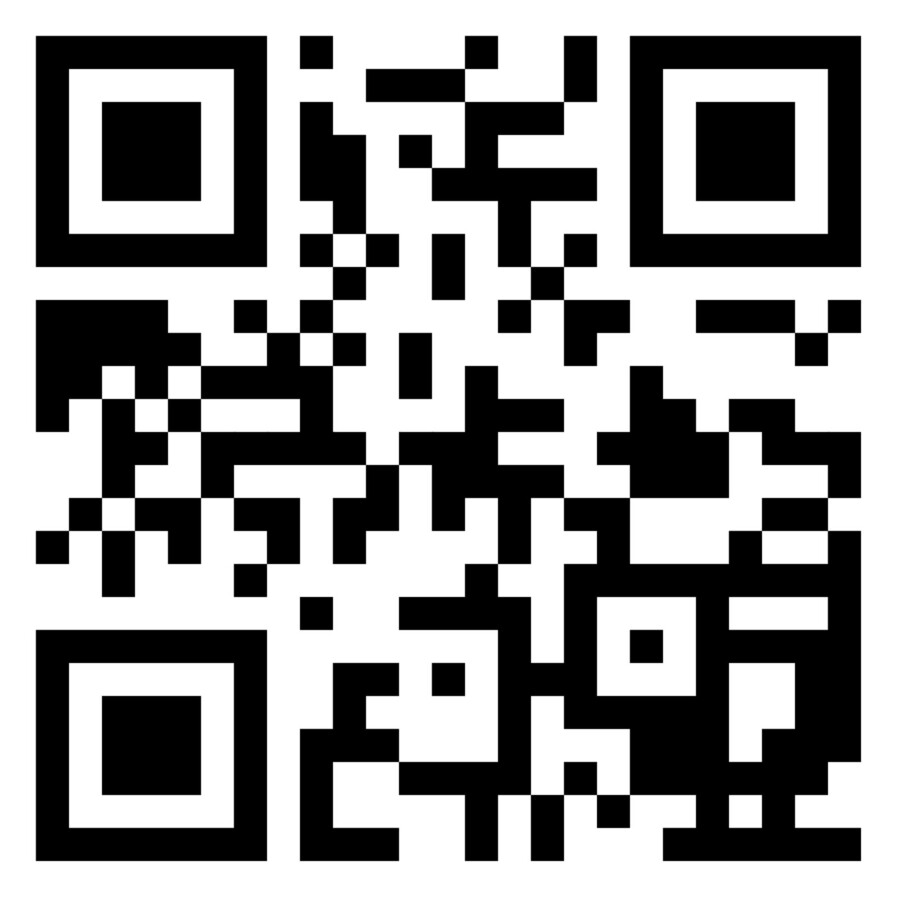 About Vins d'Alsace (CIVA – Alsace Wines Committee)
For more information about Vins d'Alsace, please visit www.AlsaceWines.com. 
#DrinkAlsace
Facebook: https://www.facebook.com/AlsaceWinesOfficial
Instagram: https://www.instagram.com/vinsalsace/
YouTube: https://www.youtube.com/user/WinesofAlsace
Twitter: https://twitter.com/alsacewines